Vietnam's economy has experienced the challenging year 2021, with nearly 90% of respondents saying they were affected "mostly" or "totally negatively." However, overcoming difficulties and challenges, FSI has fulfilled the set target and excelled in the top 500 fastest growing enterprises in Vietnam.
Announcement ceremony of Top 500 fastest growing enterprises in Vietnam, FSI is honored to rank 75th at FAST500 Ranking 2022.
2021 – the "Luckless" year of the Economy – Society
In 2021, although being one of the few countries witnessing the prosperity of the economy while maintaining its growth momentum (at a low level: of 3.3%), Vietnam still suffers from severe consequences and impacts profoundly on the lives and activities of people, as well as the way businesses operate.
According to data from the Vietnam Chamber of Commerce and Industry (VCCI), Vietnam's economic environment in 2021 has a rather bleak color: 87.2% of businesses said that they would be affected "mostly" or "completely negative." Only 11% of companies said they were "not affected," and nearly 2% recorded positive impacts.
Small and medium-sized enterprises are heavily affected by the pandemic shock: small-scale enterprises are most concerned with 89.3% of businesses affected, followed by large, medium, and micro enterprises with 88%, 87.3%, and 87.2%, respectively.
However, COVID-19 is like a "push," forcing businesses to change the way they operate, moving towards the trend of a digital working environment, and promoting the application of enterprise digital transformation.
Top 500 fastest growing enterprises in Vietnam in 2022 (FAST500) – Ranking for enterprises' efforts to overcome difficulties
FAST500 Ranking – Top 500 fastest growing enterprises in Vietnam in 2022 is the ranking announced by Vietnam Report – a pioneer in the field of reporting, evaluating, and ranking businesses, products, and services in Vietnam based on research results, market ratings, and independent and objective assessments of Vietnam Report.
This is the 12th year in a row that this ranking report has been published, recognizing and honoring the achievements of high-growth and effective Vietnamese enterprises in the 2017-2021 period.
The list is built on the principle of objectivity, accurately assessing the growth rate of a company based on the primary indicator, the compound growth rate (CAGR) of revenue. In addition, businesses are also evaluated on many other criteria such as total assets, equity, profit before tax, corporate reputation in the media, and additional factors in determining regulation and position of the enterprise in the market segment in which it operates.
It can be said that FAST500 is a prestigious ranking that comes from objective assessments of the market and reputable research organizations.
Overcoming Covid difficulties with digital transformation, FSI is ranked 75/500 fastest growing enterprises in Vietnam 2022
Despite the difficulties of the COVID pandemic, taking advantage of product and market advantages, FSI has grown tremendously; since then, for the second time in a row, it entered the top fastest-growing companies with the 75th position, up 75 places compared to 150th position in 2021.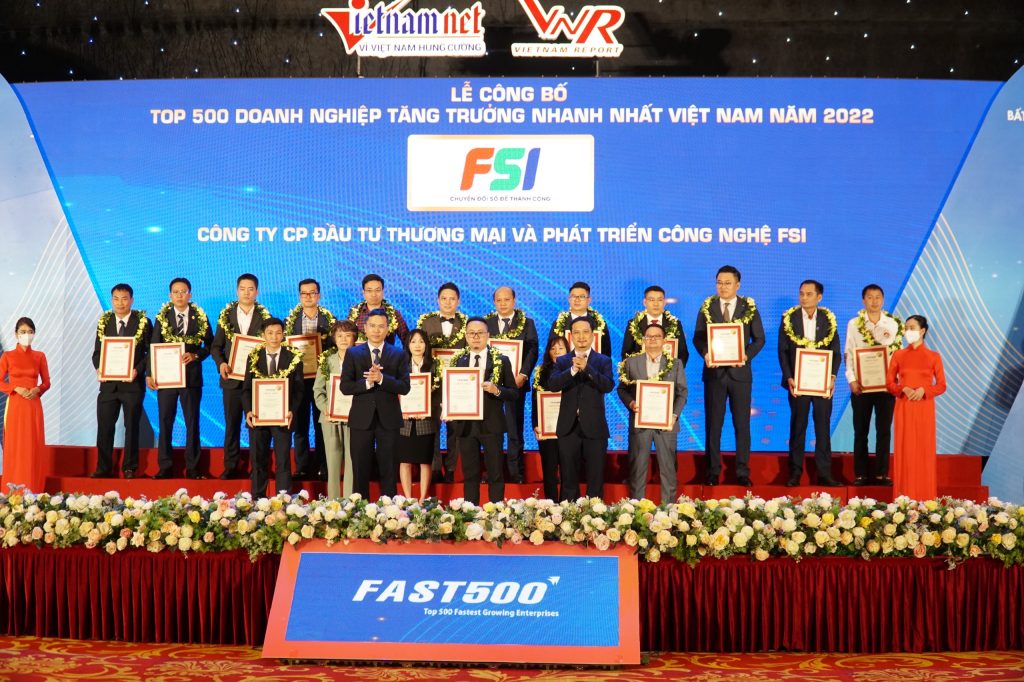 For the second time in a row, FSI is in the Top 500 fastest growing enterprises in Vietnam
To achieve this success, in the past year, FSI has made practical business improvements, brought enormous profits and outstanding development to be honored in the prestigious FAST500 2022 ranking, contributing to the affirmation of the position of the leading technology company in Vietnam.
The company has exploited its strengths in many areas that are indispensable trends of the times: providing digital transformation solutions for businesses, process optimization, and intelligent storage; Besides, the company advocates applying many innovative advanced technologies to its products and services. Since then, there have been continuously valuable orders, growing strongly despite the epidemic.
During the pandemic period, despite many difficulties in operating businesses and facing the slowing growth of the economy in general, with available specialized technology and innovative and suitable products and services, this is again a golden time, and a period of significant development for FSI when the company's digital products such as the WEONE Business Automation System proved to be practical, trendy at a time when employees tended to work from home, shy away from social contact for fear of epidemics; and businesses have the need to apply technology to manage and operate their organizations.
As a business-facing difficulty during the pandemic, FSI fully understands the challenges brought by the pandemic and the challenges that the digital transformation process brings to many Vietnamese businesses today. Fears of digital transformation failure, incomplete conversion, wasting resources on digital transformation, or fearing that transformation technology will become obsolete over time are barriers that slow businesses down in change and are a barrier to future growth.
For the second time in a row, FSI is in the Top 500 fastest growing enterprises in Vietnam
Sharing at the award ceremony, Mr. Cao Hoang Anh – Deputy General Director of FSI, said: "Not only focus on product development but also solve the "pains" of customers in the development process and on the journey. In the process of digital transformation, FSI also focuses on long-term and sustainable benefits for customers as well as the community, focusing on projects for society and the future sustainable development of the country, which makes FSI has always earned the trust of customers, partners, the community and created momentum for growth despite difficulties during the pandemic."
Contributing to Vietnam Report's Top 500 Fastest-Growing Enterprises in 2022 by Vietnam Report is an honor and recognition of FSI's miraculous growth rate and employees' efforts demonstrated reliable, professional capacity, thereby opening up many great opportunities for advancement and excellent cooperation for FSI.
FSI is committed to fulfilling its mission: Constantly innovating and creating Vietnamese technology solutions – World-class, contributing to the country's development, and helping Vietnamese organizations and businesses reach the international level.